Source: Livestock Gentec
The world has changed enormously in the last decade. The beef industry wanted a roadmap that takes it 10 years out (but still building on the 2020-2024 goals) to support Canada's regional beef organizations and speak to the global conversation on sustainability and climate-change.
"We also wanted to showcase that a strong Canadian beef industry is integral for climate mitigation and the sustainability of the food system as a whole," says Brenna Grant, Secretariat of the Canadian Beef Advisors. "The thinking behind these seven goals is to spur innovation in the industry so we can achieve more than if we hadn't set the goals in the first place."
Goal 1. Greenhouse gas and carbon sequestration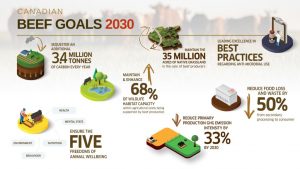 Can we keep global warming from exceeding the 1.5°C target? Even though they are unintentional by-producers of methane and carbon, beef and agriculture also contribute to the solution. The 2030 industry goals are:
Safeguard the existing 1.5 billion tonnes of carbon stored on lands managed with beef cattle.
Sequester an additional 3.4 million tonnes of carbon every year.
Reduce primary production of GHG emission intensity by 33% by 2030.
Reduce food loss and waste from secondary processing to consumer by 50% by 2030.
Agriculture is one of the front-line sectors in terms of being affected immediately by weather fluctuations and extremes, so building resilience within production systems is critical. One of agriculture's advantages is the potential to sequester additional carbon in grasslands managed by cattle-grazing.
"We want to empower producers to measure and monitor the change and get paid for it," says Grant. The US government is already looking at that.
For more information on how producers can help achieve these goals, see the factsheet here.
Goal 2. Animal health and welfare
Animal health and welfare are closely tied, not only through management practices that allow animals to engage in the species-specific behaviours that keep them healthy but also through the appropriate provision of medicines that heal them.
Ensure the five freedoms of animal wellbeing by increasing adoption of on-farm management practices.
Ensure the effectiveness of existing and future antimicrobials is preserved to support human and animal health and welfare.
What makes sense in one production system and species may not in another. Just in the beef sector, there's a huge diversity of production systems across the country, from cow-calf to backgrounding and finishing. Producers already have a high level of care, and that needs to be recognized. The new goals show that the Canadian beef industry is committed to welfare; and part of that means protecting the effectiveness of antimicrobials so those products are still around in the future for humans and animals. Like Goal 1, the agriculture sector won't achieve this on its own. For more information on how producers can help achieve these goals, see the factsheet here.
Goal 3. Land Use and Biodiversity
"We can't safeguard 1.5 billion tonnes of carbon on land if we don't maintain 35 million acres of native grassland," acknowledges Grant. "If it gets converted, plowed or developed, a lot of carbon is released. So to achieve Goal 1, we need this underlying land-use goal."
Maintain the 35 million acres of native grassland in the care of beef producers.
Maintain a network of natural landscapes and healthy functioning ecosystems through well-managed grazing systems that maintain sustainable plant communities and healthy rangelands.
This goal has the most support—but is by far the most difficult to achieve because commodity prices drive land conversion; and with technology, rainfall and new cultivars, more areas are amenable to crops. If farmers aren't getting paid for carbon capture and biodiversity, that land is at risk of being converted to other uses. So payment for ecosystem services is critical, and will make the difference in maintaining the grasslands and other areas around Canada that can sequester carbon even faster than native prairie. For more information, see the factsheet here.
Goal 4. Water
The water goals were designed to be principles that recognize the effect water has on the landscape and to reflect the diversity of Canada's regions.
Promote practices that maximize water quality and retention to deliver healthier landscapes, resilience to drought and flood events, and groundwater recharge as appropriate to the region's precipitation.
Improve water use efficiency in the beef value chain.
Build recognition by the public and policy-makers of the benefits provided by grassland ecosystems.
"Canada has one of the lowest water use numbers in the world for beef cattle," says Grant. "We definitely want to promote practices that continue to ensure efficiencies throughout the supply chain."
For more information on how producers can help achieve these goals, see the factsheet here.
Goal 5. People health and safety

Goal 5 is about taking care of the people in the beef industry: producers, employees, ranchers, feedlot operators, packers, etc.
Create a culture of safety across the beef industry supply chain.
Reduce serious, fatal, and fatigue-related incidents by 1.5% per year up to 2030, by supporting education, awareness and improvements in farm and ranch safety.
"Increasing education, awareness and training helps reduce serious incidents," says Grant. "We were developing these goals during the lockdowns, which raised our own awareness of mental health issues and the lack of supports for this in some rural areas. Plus, COVID comes on top of other stressors like adverse weather events, market challenges, supply issues that are making these challenging for everybody in the supply chain. We want to make sure that support and training are available in rural areas."
For more information on how producers can help achieve these principles, see the factsheet here.
Goal 6. Beef quality and food safety
Canada has a lower percentage of AAA and Prime carcasses than the US, and premiums for Canada AAA are smaller than those for USDA Choice. Demand must be built for every cut on the AAA carcass to match premiums and send a market signal back to producers to produce more. AAA and Prime provide a more consistent and satisfactory eating experience, and consumers prefer them. The enabling goals are:
Establish the inherent quality and value of Canadian Beef in domestic and export markets which supports comparative equivalency or superiority to alternatives.
Increase the value of AAA and Prime carcasses to be equivalent with the US by building demand for all cuts on the carcass.
Remove internal regulatory impediments to innovation, export and commercial trade and the competitiveness of Canadian beef in domestic and international markets.
Support the development, regulatory approval and adoption of improved food safety interventions and technologies throughout the supply chain.
As well, the industry needs to keep a closer eye on developments in food safety technologies in the supply chain so that regulatory approval can be obtained faster.
"We've seen that regulatory impediments are reflected by a reluctance to adopt a technology, especially if that technology is not recognized internationally by trading partners," says Grant. "Either it gets implemented everywhere quickly, or everybody waits to see what everybody else is going to do. At the same time, we can be proactive about consumer acceptance to avoid past mistakes."
For more information on the beef quality and food safety goals, see the factsheet here.
Goal 7. Technology
"We realized that, if we didn't have specific goals around technology in terms of providing solutions for industry, we weren't going to reach our other goals," says Grant. "Technology really is an enabling goal."
Improvements in speed, reliability, accuracy, and cost-effectiveness of traceability solutions that advance both business and regulatory objectives.
Supporting functional information flow solutions to producers derived from a competitive service sector.
Invest in technological solutions that reduce costs, improve competitiveness and enable regulatory approvals and business functions that support trade and commerce.
Support innovation, research, refinement and commercialization of technologies throughout the supply chain that support economic viability and worker conditions.
Promote the acceptance of sustainable and safe beef production technologies by customers and regulators, in both domestic and international markets.
"There has to be a willingness to invest up front to address the challenges that producers face so we tried to identify those challenges. We want to partner with those who have expertise in technology. Sometimes, it's already invented, it just needs to be adapted to the sector," explains Grant. "The answer lies in demonstration and trials to see what works best."
For more information on the technology goals, see the factsheet here.