Source: National Farm Animal Care Council, Code of Practice for the care and handling of Beef Cattle – Appendix A
Body condition scoring (BCS) is a hands-on method of assessing the amount of fat cover on an animal, and is an important tool in managing beef cattle and optimizing the use of feed resources. In Canada, we use a 5-point BCS system, originally developed in Scotland. American beef producers typically use a 9-point system.
BCS is determined by assessing the degree of muscle and fat cover at specific landmarks on an animal's body, specifically over the spinous (vertical) and transverse (horizontal) processes of the short ribs (loin) and (in fatter cattle) the tail head and ribs.
Be aware that body condition scores are most applicable to mature cattle and may be of little use for cattle under one year of age.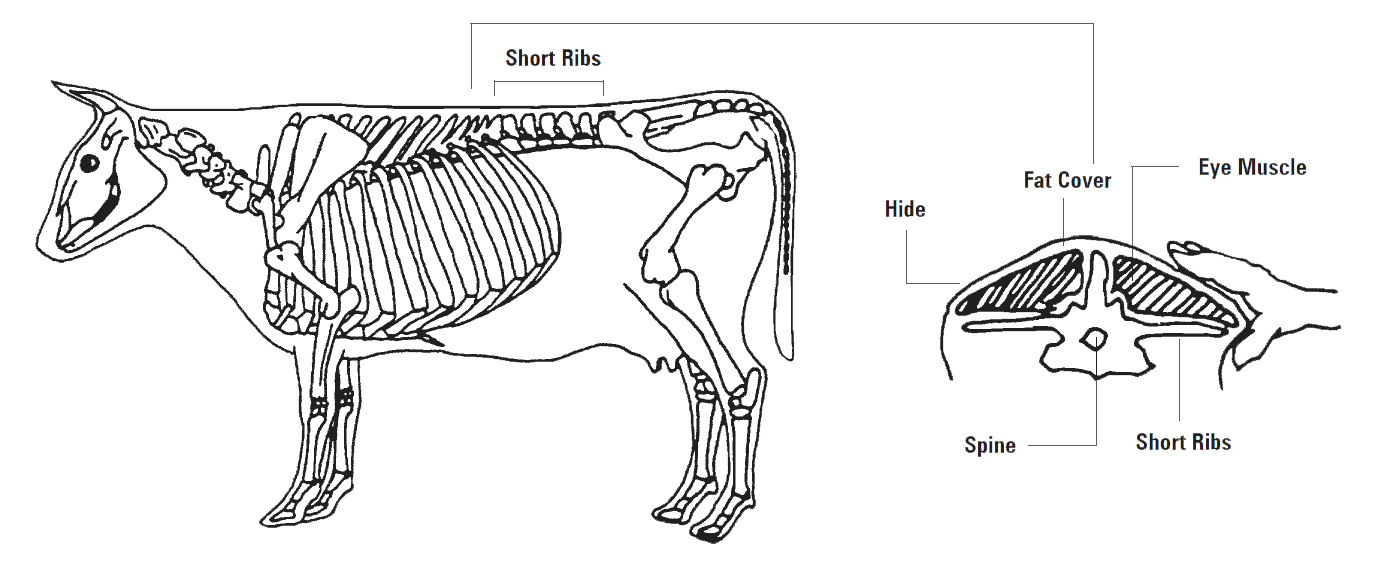 Click image to enlarge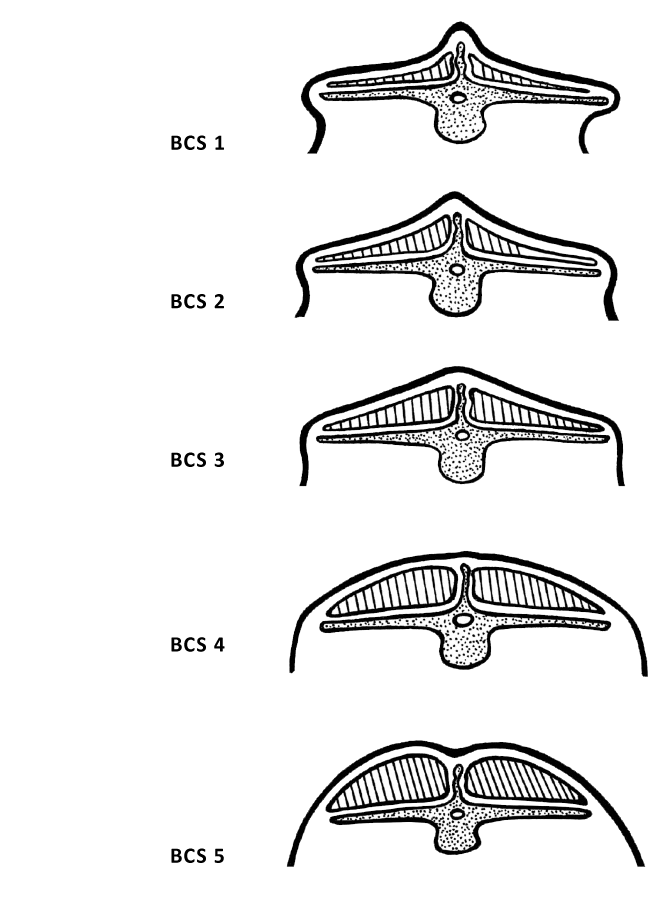 Adapted from: Alberta Agriculture and Food. Body Condition: Implications for Managing Beef Cows. Agdex 420/40-1. Available:www1.agric.gov.ab.ca/$department/deptdocs.nsf/all/agdex9622/$FILE/body-condition-implications-for-managing-beef-cows.pdf. Accessed October 2, 2012.
What's the Score: Beef Cow – Body Condition Scoring (BCS) Guide. Alberta Agriculture. Available: www1.agric.gov.ab.ca/$department/deptdocs.nsf/all/agdex9622/$FILE/bcs-beef-cow.pdf
Overview of all the body condition scores of beef cows
BCS 1
ENTIRE ANIMAL
Extremely thin
No fat in brisket or tail docks
All skeletal structures are visible
No muscle tissue evident
No external fat present
Dull hair
Survival during stress doubtful
BACK BONE
Individual vertebrae well defined, sharp
Can place fingers between each vertebrae
SHORT RIBS
Visually prominent
No fat present
Very sharp to the touch
BCS 2
ENTIRE ANIMAL
Thin
Upper skeleton prominent (vertebra, hips, pin bones)
Muscle tissue evident, but not abundant
Some tissue cover around the tail dock, over the hip bones and the flank
BACK BONE
Individual vertebrae can be felt, but not as sharp
Can't place fingers between vertebrae
SHORT RIBS
Feel individual ribs, sharp rather than very sharp
Identify individual ribs visually
BCS 3
ENTIRE ANIMAL
Ideal flesh for calving
Ribcage only slightly visible
Hooks and pins visible, but not prominent
Muscle tissue nearing maximum
Fat deposit behind shoulder obvious
Fat in brisket area
Tail docks easily felt
BACK BONE
Somewhat defined
Difficult to feel top of vertebrae
SHORT RIBS
Completely covered with fat, beginning to spread over rump
Individual ribs only felt with firm pressure
BCS 4
ENTIRE ANIMAL
Skeletal structure difficult to identify
Obvious fat deposits behind shoulder, and at tail head
Fat on brisket and over shoulder
BACK BONE
Flat appearance to the top line
Can't feel individual vertebrae
SHORT RIBS
Folds of fat beginning to develop over the ribs and thighs
Can't feel individual ribs, even with firm pressure
BCS 5
ENTIRE ANIMAL
Obese
Flat appearance dominates
Brisket heavy
Bone structure not noticeable, "blocky" appearance
Tail head and hips bones almost completely buried in fat and folds of fat
BACK BONE
Flat back
Can't feel backbone
SHORT RIBS
Completely covered by fat
Mobility impaired by large amounts of fat